Grandragons' Home Page
Who We Are:
The FALSE CREEK GRANDRAGONS were the first mixed seniors dragon boat racing team formed in Canada and have set the standard in Seniors' Dragon boating for over ten years (History). Based in Vancouver's False Creek, the Grandragons, have taken a lead role in promoting senior's dragon boat racing on the West Coast of Canada and the U.S. Over the years, the team has developed into a strong competitor at dragon boat festivals, usually finishing in the top two in senior events and in the top third in competition with younger teams in recreational division events.



Our Mandate:
The Grandragons are committed to promoting and assisting the development of seniors' dragon boat racing across Canada as an excellent activity enabling them to maintain a healthy, independent lifestyle. We believe that participating in dragon boating is an excellent way to retain good health and a zest for living.
Our purpose as stated in the Grandragons' constitution is to:
Promote dragon boat racing for seniors (men and women aged 50 and up) across Canada as an activity that facilitates continuity of healthy, mobile, independent and socially active lives;
Demonstrate that seniors are physically capable of participating in this demanding sport by competing strongly in dragon boat festivals locally, throughout Canada and elsewhere;
Disseminate information about the benefits of seniors dragon boat racing through representations, publications, and social networking exposure;
Assist groups of seniors to organize new teams and to work with other existing seniors teams in programs aimed at advancing seniors dragon boat racing in Canada.
Our Training Program:
The Grandragons team includes a wide range of paddling abilities. Our coaches are Olympic level athletes (Coaches) who have personally performed and trained teams in local, national and international competitions in a variety of water sports.  Their mandate is to help each of us paddle to the best of our ability.
Practices are focused and vigorous but we also socialize for fun and relaxation see: Grandragons Photo Gallery. Social events among Grandragons members and their partners are a very important part of our team experience.
New team members (men and women over 50) are welcomed at anytime. Please come and join us in this action sport and the vibrant Dragon boat community (Membership).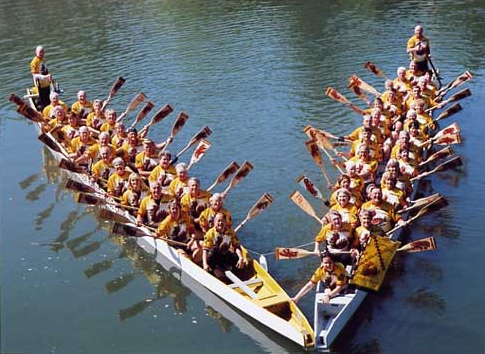 For pictures about Grandragons click here